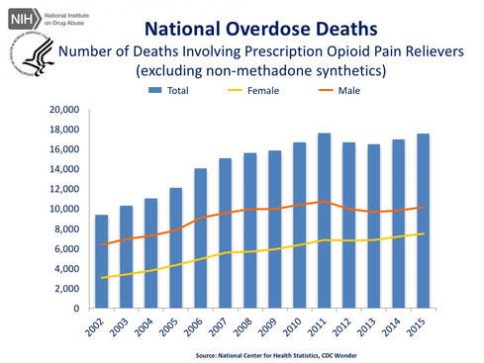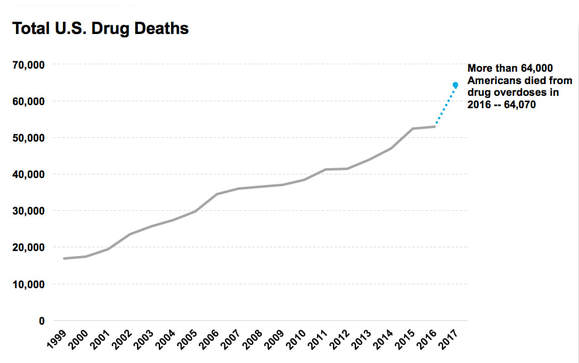 National Overdose Deaths—Number of Deaths Involving Opioid Drugs. The figure above is a bar chart showing the total number of U.S. overdose deaths involving opioid drugs from 2002 to 2015. Included in this number are opioid analgesics, along with heroin and illicit synthetic opioids. The chart is overlayed by a line graph showing the number of deaths of females and males. From 2002 to 2015 there was a 2.8-fold increase in the total number of deaths.
Drugs Involved in U.S. Overdose Deaths* – Among the more than 64,000 drug overdose deaths estimated in 2016, the sharpest increase occurred among deaths related to fentanyl and fentanyl analogs (synthetic opioids) with over 20,000 overdose deaths. Source: CDC WONDER.
Please call for your appointment!  541-981-2620
Side Effects of Prescription Drugs
Side Effects of Glaucoma Medications as quoted from http://www.glaucoma.org/treatment/glaucoma-medications-and-their-side-effects.php
Following are potential side effects of the most commonly prescribed types of glaucoma medications.
Prostaglandin Analogs: possible changes in eye color and eyelid skin, stinging, blurred vision, eye redness, itching, burning.
Beta Blockers: low blood pressure, reduced pulse rate, fatigue, shortness of breath; rarely: reduced libido, depression.
Alpha Agonists: burning or stinging, fatigue, headache, drowsiness, dry mouth and nose, relatively higher likelihood of allergic reaction.
Carbonic Anhydrase Inhibitors: in eye drop form: stinging, burning, eye discomfort; in pill form: tingling hands and feet, stomach upset, memory problems, depression, frequent urination.
Side effects of combined medications may include any of the side effects of the drug types they contain.
For more information, please see our Glaucoma Medication Guide.
Side Effects of  Gabapentin
Tell your doctor if any of these symptoms are severe or do not go away:
drowsiness

tiredness or weakness

dizziness

headache

uncontrollable shaking of a part of your body

double or blurred vision

unsteadiness

anxiety

memory problems

strange or unusual thoughts

unwanted eye movements

nausea

vomiting

heartburn

diarrhea

dry mouth

constipation

increased appetite

weight gain

swelling of the hands, feet, ankles, or lower legs

back or joint pain

fever

runny nose, sneezing, cough, sore throat, or flu-like symptoms

ear pain

red, itchy eyes (sometimes with swelling or discharge)
Some side effects may be serious. If you experience any of the following symptoms, call your doctor immediately:
rash

itching

swelling of the face, throat, tongue, lips, or eyes

hoarseness

difficulty swallowing or breathing

seizures
Gabapentin may cause other side effects. Call your doctor if you have any unusual problems while taking this medication.
information gathered from the Medline Plus Page which can be seen HERE:
The following information is a direct quote from Drugs.com concerning the side effects of Botox.  This is listed for the patient:
"All medicines may cause side effects, but many people have no, or minor, side effects.Check with your doctor if any of these most COMMON side effects persist or become bothersome when using Botox:
Anxiety; arm or leg pain; back pain; constipation; dizziness; drowsiness; dry mouth; dry or irritated eyes; facial pain; flu-like symptoms; headache; inability to focus the eyes; increased cough; indigestion; mild sore throat; nausea; neck pain; pain, redness, swelling, or tenderness at the injection site; runny nose; sensitivity to light; stiff or weak muscles at or near the injection site; sweating; tiredness.
Seek medical attention right away if any of these SEVERE side effects occur when using Botox:Severe allergic reactions (rash; hives; itching; difficulty breathing; tightness in the chest; swelling of the mouth, face, lips, or tongue; unusual hoarseness; wheezing); bleeding at the injection site; blood in the urine; burning, numbness, or tingling; burning with urination; chest pain; difficult, frequent, or painful urination; difficulty swallowing or breathing; double or blurred vision, or other vision changes; drooping of the upper eyelid; eyelid swelling; fainting; fever, chills, or persistent sore throat; irregular heartbeat; loss of bladder control; loss of strength; paralysis; seizures; severe or persistent muscle weakness, headache, or dizziness; shortness of breath; speech changes or problems; worsening migraine.
This is not a complete list of all side effects that may occur. If you have questions about side effects, contact your health care provider. Call your doctor for medical advice about side effects. To report side effects to the appropriate agency, please read the Guide to Reporting Problems to FDA.
"Side Effects by Body System – for Healthcare Professionals
Gastrointestinal side effects have included nausea (2 to 3%), oral dryness (2 to 10%), and dysphagia (2 to 10%).
Nervous system side effects have included fatigue (2 to 3%), dizziness (2 to 10%), fever (2 to 10%), drowsiness (2 to 10%), and numbness (2 to 10%). New or recurrent seizures have been reported, usually in patients who are predisposed to experiencing these events. The exact relationship of these events to the injection of onabotulinumtoxinA has not been established.
Respiratory side effects have included bronchitis (2 to 3%), increased cough (2 to 10%), rhinitis (2 to 10%), and dyspnea (2 to 10%).
Musculoskeletal side effects have included pain in extremity (6%), muscle weakness (4%), asthenia (2 to 10%), back pain (2 to 10%), hypertonia (2 to 10%), and stiffness (2 to 10%).
Cardiovascular side effects have included arrhythmia and myocardial infarction, some with fatal outcomes. Some patients had risk factors including cardiovascular disease. The exact relationship of these events to the injection of onabotulinumtoxinA has not been established.
Local side effects have included soreness at injection site (2 to 10%).
Immunologic side effects have included flu syndrome (2 to 10%).
Ocular:  In two cases of VII nerve disorder, reduced blinking from onabotulinumtoxin, A injection of the orbicularis muscle led to serious corneal exposure, persistent epithelial defect, corneal ulceration and a case of corneal perforation. Focal facial paralysis, syncope, and exacerbation of myasthenia gravis have also been reported after treatment of blepharospasm.
Extraocular muscles adjacent to the injection site can be affected, causing vertical deviation, especially with higher doses of onabotulinumtoxinA. The incidence rates of these adverse effects in 2058 adults who received a total of 3650 injections for horizontal strabismus was 17%.
The incidence of ptosis has been reported to be dependent on the location of the injected muscles, 1% after inferior rectus injections, 16% after horizontal rectus injections and 38% after superior rectus injections.
In a series of 5587 injections, retrobulbar hemorrhage occurred in 0.3% of cases.
Ocular side effects have included diplopia (2 to 10%) and ptosis (2 to 10%). Other events reported in prior clinical studies in decreasing order of incidence include: irritation, tearing, lagophthalmos, photophobia, ectropion, keratitis, diplopia, entropion, diffuse skin rash, and local swelling of the eyelid skin lasting for several days following eyelid injection.
Other side effects have included speech disorder (2 to 10%). Other side effects reported postmarketing have included abdominal pain, anorexia, brachial plexopathy, diarrhea, facial palsy, facial paresis, hyperhidrosis, hypoacusis, hypoesthesia, localized numbness, malaise, myalgia, paresthesia, pyrexia, radiculopathy, skin rash (including erythema multiforme, and psoriasiform eruption), tinnitus, vertigo, visual disturbances, and vomiting.
Other Side effects occurring most commonly in patients with cervical dystonia have included dysphagia (19%), upper respiratory infection (12%), neck pain (11%), and headache (11%). One female patient treated for cervical dystonia developed brachial plexopathy 2 days after injection of 120 Units of onabotulinumtoxinA.
Other side effects occurring after treatment for axillary hyperhidrosis at a frequency of 3 to 10% have included injection site pain and hemorrhage, non-axillary sweating, infection, pharyngitis, flu syndrome, headache, fever, neck or back pain, pruritus, and anxiety.
Side Effects of Oxycotin/Oxycodone
Drugs.com lists constipation; dizziness; drowsiness; dry mouth; headache; nausea; sweating; vomiting; and weakness as the side effects for the consumer to be concerned with.  They list the following body systems as being affected when listing "Side Effects by Body System – for Healthcare Professionals":  Nervous system, respiratory, Gastrointestinal, Psychiatric, Dermatologic, Hepatic, and Cardiovascular.  (and Heroin addiction)  This can't be good!
Side effects of CeleBrex
CELEBREX is indicated for the relief of the signs and symptoms of osteoarthritis, rheumatoid arthritis, and ankylosing spondylitis, and for the management of acute pain in adults.
Important Safety Information:All prescription NSAIDs, including ibuprofen, naproxen, meloxicam, and CELEBREX, have the same cardiovascular warning: They may increase the chance of heart attack or stroke that can lead to death. This chance increases if you have heart disease or risk factors for it, such as high blood pressure or when NSAIDs are taken for long periods.
CELEBREX should not be used right before or after certain heart surgeries.
Serious skin reactions, or stomach and intestine problems such as bleeding and ulcers, can occur without warning and may cause death. Patients taking aspirin and the elderly are at increased risk for stomach bleeding and ulcers.
Tell your doctor if you have:
* A history of ulcers or bleeding in the stomach or intestines
* High blood pressure or heart failure
* Kidney or liver problems
CELEBREX should not be taken in late pregnancy.
Do not take CELEBREX if you've had an asthma attack, hives, or other allergic reactions to aspirin, any other NSAID medicine, or certain drugs called sulfonamides.
Life threatening allergic reactions can occur with CELEBREX. Get help right away if you've had swelling of the face or throat or trouble breathing.
Prescription CELEBREX should be used exactly as prescribed at the lowest dose possible and for the shortest time needed.  (Information gathered from
http://www.celebrex.com/)
Our next drug of topic is Lyrica
Lyrica is used to treat:
Neuropathic pain associated with diabetic peripheral neuropathy , herpetic neuralgia.  Adjunctive therapy for adult patients with partial onset seizures.  Fibromyalgia.
Cannabis is exceptional for treating these very health issues.
—– WARNINGS AND PRECAUTIONS (LYRICA) —
 Angioedema (e.g. swelling of the throat, head and neck) can
occur, and may be associated with life-threatening respiratory
compromise requiring emergency treatment. Discontinue
LYRICA immediately in these cases. (5.1)
 Hypersensitivity reactions (e.g. hives, dyspnea, and
wheezing) can occur. Discontinue LYRICA immediately in
these patients. (5.2)
 Increased seizure frequency may occur in patients with
seizure disorders if LYRICA is rapidly discontinued.
Withdraw LYRICA gradually over a minimum of 1 week.
(5.3)
 Antiepileptic drugs, including LYRICA, increase the risk of
suicidal thoughts or behavior. (5.4)
 LYRICA may cause peripheral edema.  Exercise caution
when co-administering LYRICA and thiazolidinedione
antidiabetic agents. (5.5)
 LYRICA may cause dizziness and somnolence and impair
patients' ability to drive or operate machinery.(5.6)
—— ADVERSE REACTIONS ——
Most common adverse reactions (≥ 5% and twice placebo) are
dizziness, somnolence, dry mouth, edema, blurred vision, weight
gain and thinking abnormal (primarily difficulty with
concentration/attention). (6.1)
To report SUSPECTED ADVERSE REACTIONS, contact
Pfizer at (800) 438-1985  or FDA at 1-800-FDA-1088 or
www.fda.gov/medwatch