Not only are Smokeless Cannabis Remedies an alternative to smoking Cannabis , but they are a fundamental Endo-Cannabinoid System (ECS) sustenance. Our Endo-Cannabinoid System needs to be fed, just like the other systems in our bodies, in order to maintain optimal health. Because our Endo-Cannabinoid System regulates so many other systems in our bodies, it is no wonder that we may feel so out of balance when our ECS is not being properly cared for.
Smokeless Cannabis Remedies are not just any remedy made with Cannabis. Smokeless Cannabis Remedies are a viable health alternative to many prescription and over the counter medications. Smokeless Cannabis Remedies are a concept born of the mind of their creator, Rhea Graham. They are remedies without filler, unwanted, or unnecessary ingredients. From using ingredients like virgin organic coconut oil, to vegan gelatin capsules, Smokeless Cannabis Remedies are meant to promote and enhance ones own healthy lifestyle. This is what we hope that people remember as they travel their journey with Cannabis.
Smokeless Cannabis Remedies encompass different routes and methods of feeding our endo-cannabinoid systems and reaching the different receptor sites. Using a Cannabis topical is not necessarily going to get to, say, the receptors on your internal organs. Therefore, many individuals find that they can reach closer to a state of homeostasis and balance by using multiple forms of Smokeless Cannabis Remedies.
Keep reading below to find out about each type of remedy and how they have been found to be beneficial to others. And, remember, these descriptions are for Smokeless Cannabis Remedies preparations, not to be confused with directions for Cannabis products found elsewhere. Please read your labels and speak with your dispensary's budtenders about their products.​
(Video was created when products were still available to be sold in stores. The products are now taught how to make.)
Cannabis remedies treat countless ailments.  We will help you select the best Smokeless Cannabis Remedy (SCR) for your condition and then help you find the best way to prepare it, either through one of our Cooking Consultations or through our Exclusive Caregiver Services.
Our current Cooking Consultations are broken down and taught in these categories:
Capsules and Suppositories
Salves and Massage Oil
Tinctures and Liniment
Butters and Coconut Oil Infusions
​Cooking with Concentrates
At Albany's Canna Kitchen & Research, LLC, we pride ourselves on the quality of our preparations.  We use, and encourage the use of, organic ingredients in all of our SCR preparations. You will be amazed at the difference in taste and efficacy- try for yourself!  We help you make the very best possible remedies out of what you have available for converting.  Remember … you can't put hamburger in the BBQ and get steak out … so what you put in bears significantly on the strength of your remedies.
Leaves and stems make valuable tinctures and topical salves, ointments, and massage oils. They work amazingly well to relieve pain and lung issues as well.
Appointments are required for clinics, Cooking Consults, and individualized consultations with Rhea. Click here to learn more and make an appointment.  If you do not hear back from us within 24 hours, please send another message or call and leave a message at 541-981-2620.
Learn more below!
Smokeless Cannabis Remedies
Capsules and Suppositories:
Capsules​
Capsules will likely be your favorite. After trying them at home you may find that you are able to function and be pain free taking one or two capsules at a time and dosing every four to six hours.
When using "day caps", patients are able to function and complete tasks as normal.
For a healthy, rejuvenating sleep you may wish to try taking two "night caps" 30 to 60 minutes before bedtime. For beginners, start with one, then dose up if needed. Expect to wake up refreshed without the feeling of being "drugged". If you're having to take more than one or two at a time, you may wish to try a stronger dose. If you are groggy in the morning, try just one capsule before bedtime.
Capsules have been found to work exceedingly well for all side effects from cancer treatment, as well as nausea, pain, muscle spasms, MS, appetite stimulation, deep bone pain, PTSD, arthritis, toothache, joint pain, arthritis, headaches, migraines, and many more conditions and ailments.
Depending on the strength and strain of the Cannabis (and your personal tolerance), we can help you make "day, night, or weekend" "high THC or high CBD" capsules for yourself. Night and weekend capsules are typically stronger and formulated for higher THC and/or other cannabinoid content, like CBN.
We use virgin organic coconut oil for the bulk of our capsule making preparations. On occasion, we like to discuss infusing Virgin Organic Hemp or Virgin Organic Avocado Oil.​
Canna Suppositories
Suppositories should be kept frozen. They are an amazing delivery system, a favorite of many. You will want to remove them from the capsule before inserting in the anus, as the ph is different and does not readily melt the capsules. (Remove small cap, push on the rounded end and wa-lah the suppository ejects from the capsule). Insert rounded end in anus, expect relief shortly thereafter.
When using the suppository delivery method, you do not typically experience a high. This is due to the Cannabis avoiding the "first pass" through the liver . There are a number of reasons people would choose suppositories. First might be those who are nauseated and can't keep anything down; next might be those who are unable to take pills or capsules.
Many patients don't want the high but need the THC to be activated to treat their condition. And then there are the men with prostate issues. The prostate gets enlarged or infected with cancer and causes a problem. When you put the remedy as close to the problem as you possibly can … you get great results in no time at all. Patients have reported results on their first use, others in less than two weeks. Suppositories, like all other products, can be made in day and night doses.
A full night of uninterrupted sleep is all but guaranteed with a night-time suppository formulated by Albany's Canna Kitchen & Research!
Cannabis Salve
​These salves are a fantastic treatment for arthritis, joint pain, muscle aches, pains, and spasms; psoriasis, athletes foot, and more. ​
Massage Oil
Our massage oil became just as popular as the Super Salve. They are very similar; Naturally, the massage oil is lacking the local beeswax.
Liniment, Massage oil, and Salve are all topical products with each of their own unique purposes and uses. Sometimes, you may find it most beneficial to use all three in conjunction with each other, especially during those intense episodes or stubborn flare ups. Some people find that they enjoy having certain essential oils added to their personal topicals as well.
Tinctures, Elixers, and Liniment
Tincture and Elixers bring great relief from migraines, headaches, coughing, asthma, fibromyalgia, nausea, pain, coughing, insomnia, general pain, and much more. They are of the fastest working oral Smokeless Cannabis Remedies.
We find that we most often consult on organic glycerin and honey based tinctures for the simplicity of easily adding it to favorite drinks and treats or use for straight under the tongue.
We recommend glycerin based preparations for diabetics, as typically it will not change your blood sugar.
​
Tincture is best when augmented with stems and leaf. A pint of tincture will probably last you 4 months, or longer.
Elixers can be a bit more complex and time intensive with different ingredients and processes.
Liniment is an alcohol based topical that has been known to help with herpes, shingles, deep muscle pain and spasms, neuropathies, sports injuries, tendon pain, and acne.
Sitz Baths and Foot Soaks
The capsule and suppository remedies are most popular, but there are many Smokeless Cannabis Remedies to be made and enjoyed. Our bodies uptake the medicine fastest and best at our genitalia. Imagine a nice warm sitz bath. Yes, you read that right. Have you ever enjoyed one? Amazing!
This is a serious treatment option for many to consider. Men soaking their scrotum in the sitz bath could quite possibly get some of the same benefit they could from suppositories. It would be a matter of dosage, and … that will take a little trial and error to figure out.
Butters and Coconut Oil Infusions:
Coconut Oil
Ask me for recipes for your virgin organic coconut oil, I'll point you in the right direction. I believe you will find Coconut oil to be your favorite cooking oil in no time at all! (It is also called 76 degree oil as it sets up when it is 76 degrees or cooler.) Refined, it has no taste or smell. Virgin (unrefined) coconut oil has the delicious smell and taste of coconut and adds a wonderful flavor to baked goods.
Coconut oil is fantastic for cooking, baking, and salve – you choose! Let us know how you intend to use it so we are able to determine and talk about what type of packaging and/or storing practices will best suit your needs.
​Butter
Of course there is the old standby- butter! You will get a better return and probably be happier with Organic Virgin Coconut Oil though, have you considered it? Then there is Clarified Butter (Ghee). Oh My Yumness, and – it extracts far better than 'regular' butter. NEVER and I mean NEVER use margarine for anything.
Nut Butter
Nut butter is way better! Get some protein and more. ​This stuff is incredible. Not only can you get some protein, you have a delicious means of getting your medicine. If you like your fresh almond butter sweeter, we like to add honey to our recipe. Don't like almond butter? We can get most any nut butter. A dose is one level teaspoon and typically lasts about 6 hours … or more! ​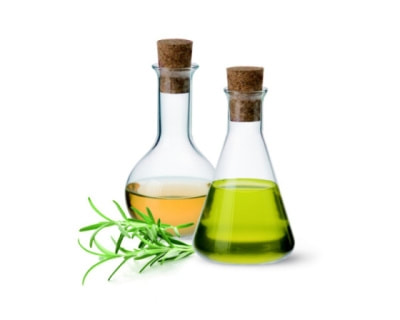 Image courtesy of simax.com. Side note: Rosemary contains the terpene cineole (aka eucalyptol), a terpene also found in some Cannabis strains. This terpene has been found in studies to potentially reduce the symptoms of Alzheimer's Disease, increase cognitive functions, and reduces exacerbations in COPD.
Cooking Oils and Salad Dressings​
Both are great products – and what you choose is what we'll talk about how to make for your specific needs.
Olive oil is often used for the salad dressing or bread dipping oil, but one has to be careful as it will go rancid in a short time.
Which oil do you like to cook with? Chances are we can help you convert it into your own special remedy.
Salad dressing is another option … from Wishbone to Wishstone …
We can help you infuse any oil you like for salad dressing … you can mix it with other ingredients or it can be converted right into your favorite oil-based dressing that is already prepared – this makes a wonderful marinade as well- the choice is yours. ​
Do you have other ideas?  We're interested in researching them and helping you try them out! There are many ways to convert this incredible plant in to remedies.